Episode One Hundred And Sixteen – On Thursday, he became a Monk, which no-one expected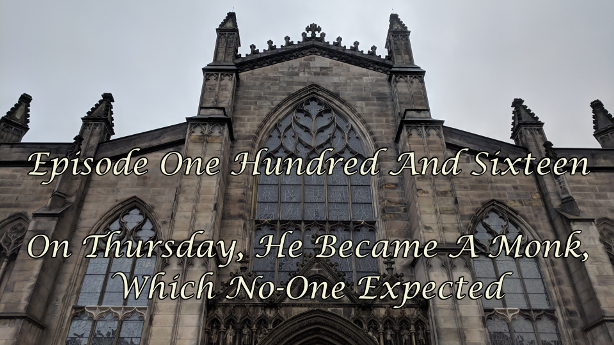 When your team's quarry suddenly takes up holy orders, you have to reassess. Is their sudden repentance genuine? Even if it isn't, acquiring your target becomes much harder when they're living in an environment where you can't blend in because everybody knows what everyone looks like.
…and maybe they have chosen that particular place because they know something you don't?
A meta-curse has a party member working their way through the classes in the player's handbook in order.
That's ridiculous enough, but what does it mean when they suddenly skip a few?
Magic didn't enter the world gradually; Nope, people went to bed as utterly mundane medieval folks, and woke up with class abilities as a brand-new race.
How do you get your golem repaired?